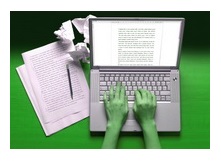 To succeed in digital marketing, you need top quality digital content for your website. It's as simple as that. Equally simple is our commitment to every client who chooses OnlineAdMag as their website content writer and developing partner. We create content that offers readers genuine and worth value, help and insight. Our content makes you stand out from the crowd with customizations and high uniqueness in each word and sentence.
Your website is your online shop window. It's where all of your social media, email and blog activity points back to. Clear and compelling website content is the thing what turns visitors into customers and customers into clients.
Effective website content is structured for reading online. People read quickly online. In fact, someone visiting your website for the first time will probably scan your content rather than read it properly. Note how this page is broken up into sub-headings and bullet-points: the main points are communicated instantly.
It should also be purpose driven that every word on your website plays a specific part in persuading your visitors to convert to customers. And most importantly optimised for search engines. Such as Google favors high quality copy that naturally contains the keywords your audience are searching for. Instead of keyword stuffing, you need to craft valuable content that people want to engage with and share.
Professional websites content providers like OnlineAdMag can assist you to work out your USP (Unique Selling Proposition). These are the most significant facets of any content for your web site and assist you in determining the achievement of your website.
Interested in getting the professional Website Content Developers for your website? Click below to request a quote.