Corporate Web Designing and Development - Packages and Pricing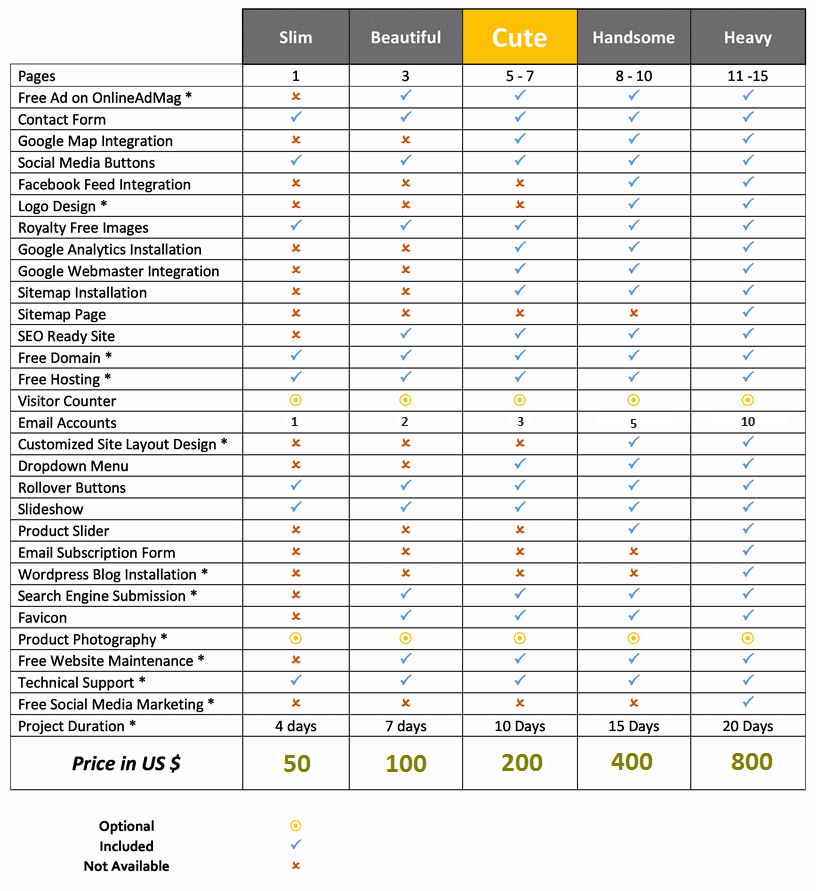 Note:

* Free Ad on OnlineAdMag: Your Free advertisement will be placed in the Offer and Promotion Advertisement of your related category.

* Logo Design: A Free Logo for Your Website will be designed upon your request, you will be given 3 options to choose from. You will be given this logo for the website use only and will be published in your website only.

* Free Domain: We will register your domain name of .com, .net, .org free for 1 year. After 1st year you have to pay $20 for domain name. The price of domain name can change without any prior notice. If you need to have any other domain extension then the price will vary according to it and will be added in your package.

* Free Hosting: We will provide you free hosting till 500MB for 1 year. After 1st year you have to pay $20 for hosting. If your website will need more than 500MB hosting space then you will be charge according to the space you get extra. Prices of hosting can change without any prior notice.

* Wordpress Blog Installation: We will just install a Wordpress blog with a simple theme and we will give you 2 hours training for free of how to post things in it.

* Search Engine Submission: Your site will be submitted to top 3 search engines.

* Customized Site Layout Design: You need to fill a questioner in which you will be asked about the type of colors, etc. for your site.

* Product Photography: If you need photography for your products, premises, personnel's, etc. then it will be charged separately.

* Free Website Maintenance: 1 month free service will be given in which you can update information on website. It can be changes in text or images only.

* Technical Support: We will provide you 12 months technical support in which we will look after your website. We will monitor it and keep your website up with secure backup.

* Free Social Media Marketing: We will promote your website on our facebook page, twitter and other social media sites 2 times for the 1st month only.

* Project Duration: It starts when we get complete data content for your website from you. If you won't be able to provide us all related things within a week after your order and payment you made in advance, we will cancel your order and advance payment is non-refundable.