Whiteboard Video Production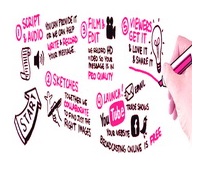 OnlineAdMag's whiteboard video production service can be a cool way to get your idea across your customers and clients. Add some professional graphics and some clean animation to a creative script and you can make a great first impression without using traditional video. A cost effective way to explain your business to prospective clients and customers. Suitable with a music score or professional voice over.
Whatever your industry is, from education to healthcare, from technology to charities, whether you need a highly engaging video for customer retention, explaining what you do, training your staff or for your fundraising campaign, we will create a high quality whiteboard video to match your brief and your budget.
Our entire team is in-house to ensure effective communication. Having everyone in one place makes it easy for us to manage your project and guarantee the best quality results.
Interested to get our Whiteboard Video Production serivce? Click below to see and select packages: