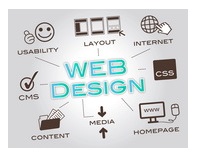 A company's website is your virtual salesman. It's available 24/7 when you are away and is a way to communicate to the world. We offer a complete service from website design for the corporate customers to build into a responsive, user friendly and good looking professional website.
OnlineAdMag offers a cost effective solution for companies and individuals seeking the very best in professional website design and customer service.
The global marketplace that is the web is now saturated with businesses all competing for the attention of potential customers and it is more important than ever to have a website that is professionally designed and visually striking.
Before starting any website design project we take the time to fully understand your business. We need to discover your brand, business model, objectives, USPs, products, services and most importantly your target markets which will allow us to create an individual, bespoke concept.
If you already have a website design then our digital marketing consultants can analyze your statistics. Our website designers use the latest technology and create bespoke website designs that are fully tailored and crafted to your business needs.
Interested? Click the button below to see and select the package: